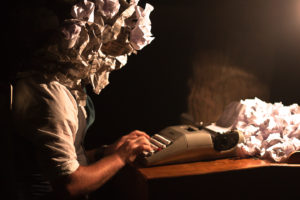 We're kicking off the 12th season of the Draft series. Yah! That's 12 years of encouraging the writing process of some truly fine authors. The series itself is always in draft mode, and we decided to try something new this year. We're not only encouraging writers to share their drafts but their writing expertise as well. In our new blog series, we will post a writerly question for the upcoming Draft readers to answer.
What is your ideal habitat and why? E.g. location, rituals writing tools, etc.
Here are the writing spots they came up with.
Bänoo Zan
I can't provide a straight answer. I am not straight. I am all metaphor and symbol, archetype and ambiguity. I am an immigrant.
"Ideal" is a big word. It is where I don't want to be as a poet. It is where I yearn for in my poetry.
I feel lonely. "Now" is the place I don't want to be. This –the place I don't want to be— is where my poetry comes from. It's my poetry's favourite place— not mine.
There is a thin line between "me" and "non-me." I don't know if I have ever crossed it, or ever will. I don't know if I ever can. Non-me is what I am. Me is what I am. I don't know if I can ever cross my own borders.
On nights like these, I don't know who is listening when I talk to me. I don't know if it's "me" or "non-me."
Why? You are asking me?
"You ask me how I am—How do I know?" says Rumi. And I echo him.
I know about the ritual, though: It is pain. It is blood. It is the me I cannot escape from, going through her self, her other self, her othered self. The ritual is the inescapable escape of screams. It is the confession.
The instrument is the exile. Until recently I thought of it as separation from homeland. Now it is deepening into a separation from the self I thought was inseparable. I don't know me anymore. This person writing is a stranger to me.
Forget about the habitat, instrument, and location. Ask about me. Ask me how I am, even if the answer is, "How do I know?"
Poet, translator, teacher, editor and poetry curator, Bänoo Zan, landed in Canada in 2010. She has more than 120 poems, etc., in publications around the globe. Songs of Exile, a collection of her poems, was released by Guernica Editions in 2016. A second collection, Letters to My Father, is due to be released early in 2017. She is the founder of Shab-e She'r (Poetry Night), the most diverse poetry reading and open mic series in Toronto. It bridges the gap between poetry communities, bringing together artists from different ethnicities, nationalities, religions (or lack thereof), ages, genders, sexual orientations, disabilities, poetic styles, voices, and visions. Bänoo Zan can be found on Facebook and Twitter.
Josee Sigouin
A tidy room with a window, a computer, an ergonomic workstation, and an internet connection. Although it may invite interruptions, I prefer to leave the door open. I feel freer that way, more connected to the world. I can't put music on – can't concentrate on my story and actively listen at the same time – but I don't mind if music wafts in from elsewhere. At work, I sometimes write during my lunch hour. There's a huge construction site right outside my window but somehow I manage to tune out the noise. At home the only voice that sends me slamming the door shut is Donald Trump's – the men in my life are addicted to CNN.
Josée Sigouin was born in Montréal and now lives in Toronto with her family. She enjoys travelling and has made several trips to Asia, particularly Hong Kong and Korea. The opening chapter of her first novel, THE FIFTH SEASON, was shortlisted for the 2011 Random House of Canada Student Award for Fiction. She has shared her writer's journey through the Women Writing Letters series published by Gailey Road Productions in 2015. In her professional life, Josée is Director of Research Information Analysis at the University of Toronto where she serves as managing editor of a key communications vehicle. She blogs about creative writing and story-telling at https://povjoseesigouin.wordpress.com/
Karen Mulhallen
Away is what I need as a writer. Always AWAY! Away from the daily, my nest, my beloved animals, my telephone and my email and my text messages. This means a retreat to me. And I have worked in three of them,  and I have flourished in each.
The furthest from home was Hawthornden Castle, sited on the last untouched glen in Scotland. Not so remote as the Orkneys, for there is a bus to Edinburgh which runs hourly past the castle gates into the city in a jiffy. Whenever you start to go crazy, there is an Edinburgh distraction  just down the road and there are wonderful walks outside the castle gates into fields of poppies and horses. Hawthornden Castle isn't really a castle in any North American sense—it's just a very large house with a wall and a moat,and foxes in the glen, and it belonged to a poet, Drummond of Hawthornden. I spent six weeks there with six other writers and wrote the Scottish section of my book The Grace of Private Passage in my commodious room at the top top top of a narrow staircase under the castle eaves.
I've been twice to the Banff Centre to visit the elk and send texts through the fully wired chipmunks. Another ideal retreat where escape means going into another building to watch ballerinas, to listen to violinists or to walk the craggy pathways wrapped in scarves in the company of other writers, playwrights, visual artists, or to go and dance in a pub called The Grizzly Bear.
My favourite retreat, however, is only a short easy boat ride from home, Toronto Island Artscape at the Lighthouse at Gibraltar Point. I have been writing at Gibraltar Point Artscape since time immemorial, and I have had short term and long term studios there where the beach is just outside the door and the grand lake sends its endless, seemingly endless changes, and skies to change moment by moment. Much of my new book was forged at Artscape Gibraltar Point where the city and the cities beyond the city and history spread out into the blue of water and sky.  
Karen has published 22 books and has edited a lot of issues of Descant which closed in 2015.In a former life and in her next she might be a veterinarian as she has a cat and dog and a whole mess of fish and in other lives, she has also mentored guinea pigs.  You can find Karen on her website, Facebook and on Twitter.
Teri Vlassopoulos
When my husband and I moved into our house, one of the main selling points was the shed in the backyard that the previous owner had converted into a fully insulated, wired office. It's a tiny, perfect space, with a high ceiling and just enough sunlight streaming through the windows. We each promptly set up our desks, our backs to each other. On my shelf I placed a stack of my favourite books, arranged a small collection of Virgin Mary candles bought in the Philippines or grocery stores in the United States and propped up a few photos. This desk was beautiful, blessed. And I think I've written at it maybe a dozen times in the past four years? While my husband uses the shed often, I retreat to coffee shops, or, more realistically, the bed. I've tried to convince myself that I would be more productive writing at a desk, but the truth is that I've done my best and most voluminous writing in bed. My husband has threatened to replace my desk in the shed with a couch. My protests have been halfhearted. My bed is my ideal writing habitat.   
Teri Vlassopoulos is the author of the short story collection, Bats or Swallows (2010), and a novel, Escape Plans (2015), both with Invisible Publishing. Her fiction has appeared in Room Magazine, Joyland, Little Fiction, and various other North American journals. She was the cookbook columnist for Bookslut, and has had non-fiction published at The Toast, The Millions and The Rumpus. She can be found at http://bibliographic.net or on Twitter.  
Don't forget to meet the writers at the upcoming Draft reading 12.1 happening on Sunday, October 23 at the Flying Pony Cafe. 
Curated by Josh P.