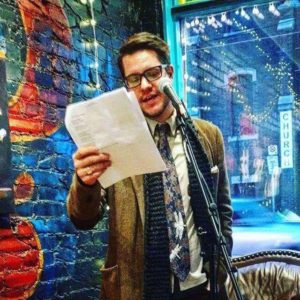 Running a reading series has always been audacious. Few can say their love of writers is worth the hard reality of packing a bar with an audience and settling up a fat bill at the end of the night.
Miraculously almost every night the bars and community spaces in Toronto are packed with every varied definition of "reading series" from weekly poetry readings to a platform for first drafts.
They're run by people like Daniel Renton, current host of the Common Reading Series, who answered our questions on how he makes the Common thrive.
Why did you start the Common Reading Series and what keeps you going?
I didn't actually start it, our founder, Jessica Moore, did. I inherited the series and hope it continues indefinitely with or without myself. The number of interested writers alone keeps it going, if I had much trouble finding readers–and I mean excellent readers–I might see the series as superfluous but that has never been the case. I've only ever had one or two repeat guests since I began hosting. Our wonderful audiences are also essential, as well as our very cool venue, the Belljar Café.
How long have you been organizing/hosting the Common Reading Series?
Since 2015. I began guest hosting in 2013 and co-hosted the 2014 year. By then I was the logical choice to take over when Jessica moved to Montreal, but she's still an important part of our collective, especially for special events.
How do you fund the Common Reading Series?
I'm awful at this and we are a small group, so the series has no external funding yet. Occasionally, the Quebec Writers' Federation has paid for writers travelling from the P of Q. The QWF is very generous at specific times of the year. Mostly, we pass a Pay-What-You-Can jug at the readings and divide what comes in equally among the readers. Writers also get one free beer. We're classy like that. Fingers crossed for grant money in 2017; I'd love to be able to offer more to our readers and build a more reliable online presence.
Why do you believe reading series are necessary for the literary community?
Although I'm sure the literary community would survive without us, I don't care to speculate on what disfigured and depraved form that community would take without us. Was there even such a thing as CanLit before Common Readings? This would make a good essay topic for the end of term.
Who was your most memorable reader?
There have been so many but it was amazing to hear Karen Solie read new work early last year. Karen somewhat of a national treasure in Canadian poetry. She's had a good deal of success here and is rapidly gaining attention abroad. This means that she's used to very professional gigs that probably pay well. In sum: we need her a lot more than she needs us. I can't speak for her or anyone else, but I suspect that writers of this high a calibre enjoy reading at the Common because of the relaxed atmosphere and the closer connection to the audience. It's a bit like when a stadium rock star does a surprise gig at a coffeehouse. It's also a great way to try out new material and connect with new artists. Liz Howard, Damian Rogers, and Soraya Peerbaye stand out as recent highlights.
What makes the Common Reading Series unique?
Our unique agenda has been to fit somewhere between a series like Pivot and one like Emerging Writers (now reinvented as Slackline) to offer a bit of both worlds. In that spirit, we strive to match emerging writers with more established ones in order to create dialogue within the literary community that otherwise might not exist. Ideas flow both ways, new writers get first- hand access to those who know the literary scene well and successful writers get to hear fresh voices and get to know emerging trends. This mandate also involves striving to diversify the literary community on all levels, which involves but is not limited to including writers of colour, various gender orientations, writers with disabilities, and writers from various regions and cultures as much as possible. But the issue isn't just about inclusion, it's about paying attention to what makes quality writing work for each new reader.
What is the future of Common Reading Series?
We've recently extended the series to include many special events including book launches, translation nights, satellite events across Canada, and transnational readings which include guest authors from the United States. It is my hope that the series can continue to grow, to survive, and maintain its level of quality as well.
Daniel Kincade Renton has been published in Prism international, Hazlitt, CV2, The Fiddlehead, The Malahat Review, and The Fish Quill Poetry Boat 2010-2013 anthology. His poem "Sundowning" was shortlisted for the Basil Bunting award in the UK. Daniel hosts The Common Reading Series in Toronto, while completing a Ph.D on Jacques Derrida, Poetics, and Hypercritical Faith at York University. Milk Teeth, his debut chapbook, was published by Frog Hollow Press in late 2015. You can find him on Facebook and Instagram.