A conversation with Mimi O'Bonsawin, artist/teacher/proud owner of the Dock, Draft's newest venue.
When I walked into the Dock, my first impression was of a cafe tucked between a kayak shop and tourist "trading post" somewhere in Huntsville. Looking back outside, a crane loomed over, ready to throw up Toronto's latest condo tower over a neighbourhood steeped in family-friendly quaintness.
Mimi O'Bonsawin was standing by the counter, chatting with a barista. She's a slight lady, steeped under dreadlocks, with owlishly round glasses that looked like she inherited them from a librarian. As an indie singer-songwriter as well as the proprietress of Draft's newest venue. I asked her about her music passions and her newest venture.
Answers have been condensed and changed for clarity.
I listened to your most recent album, and it has a distinct style, unique from other indie singer-songwriters. What is your music's biggest influence?
I listen to a lot of different artists. But in my music, I am the same person when I write music and in everyday life. Some people have a different persona when they perform, but I keep it real. I like that, I keep it real.
Who is your most-admired artist?
I have a couple of influences. Bob Marley is one and the other is Buffy Sainte-Marie. She's a first-nations woman from Saskatchewan, who's been around since the 60s. She's written amazing songs for Elvis, Janice Joplin to Joe Cocker. They all covered her songs, the list goes on. She's still touring around the world at 74 and she's amazing. She's definitely my idol and I would love to have a career like hers.
What's your favourite poem or piece of music?
"Oppression" by Ben Harper, is a good song, based on what's happening in the world. It's written like a poem and the way he sings it is like a spoken-word. It's pretty cool.
So why did you choose to become a musician?
I've always been a musician. Even before I could talk I would sing and dance and put on concerts for my family. My parents always knew that I was going to become a musician since I was 1 or 2. I started taking music seriously when I was in highschool, and I just kinda went from there.
You chose to become a musician but you are also a workshop instructor. What can you tell me about your workshop "Rhythm & Rhyme"?
I do some songwriting workshops across Ontario, southern Ontario and northern Ontario, for kids grades 4 – 12. And I do songwriting and empowerment through storytelling and song creation. It's pretty fun.
Then you moved onto being the proprietress of The Dock…..
Yeah, my dad and I and my cousin had the opportunity to open up this coffee shop. My cousin is also a singer as well as a dancer and actor. And so when we were building this place, it was very important to have it a space for artists. We want it to have music and dance and poetry nights. We have local artists put their work on the wall and now we have a reading night. So it's kind of a different space from a regular coffee shop because it's very artist-driven you know? Our coffee is local from where we're from, which is Northern Ontario, so it's very important to keep it local in Toronto.
The Dock has a rustic atmosphere. Who designed the space?
We designed and renovated it ourselves. We're from northern Ontario, so we brought the North Ontario vibe. I'm from Sudbury, so we brought a little piece of home to Toronto. All the wood (she taps on the table between us, it's covered in coffee mug burns) is from just outside of Sudbury. Except for our [kitchen] equipment, everything is repurposed and reused and recycled.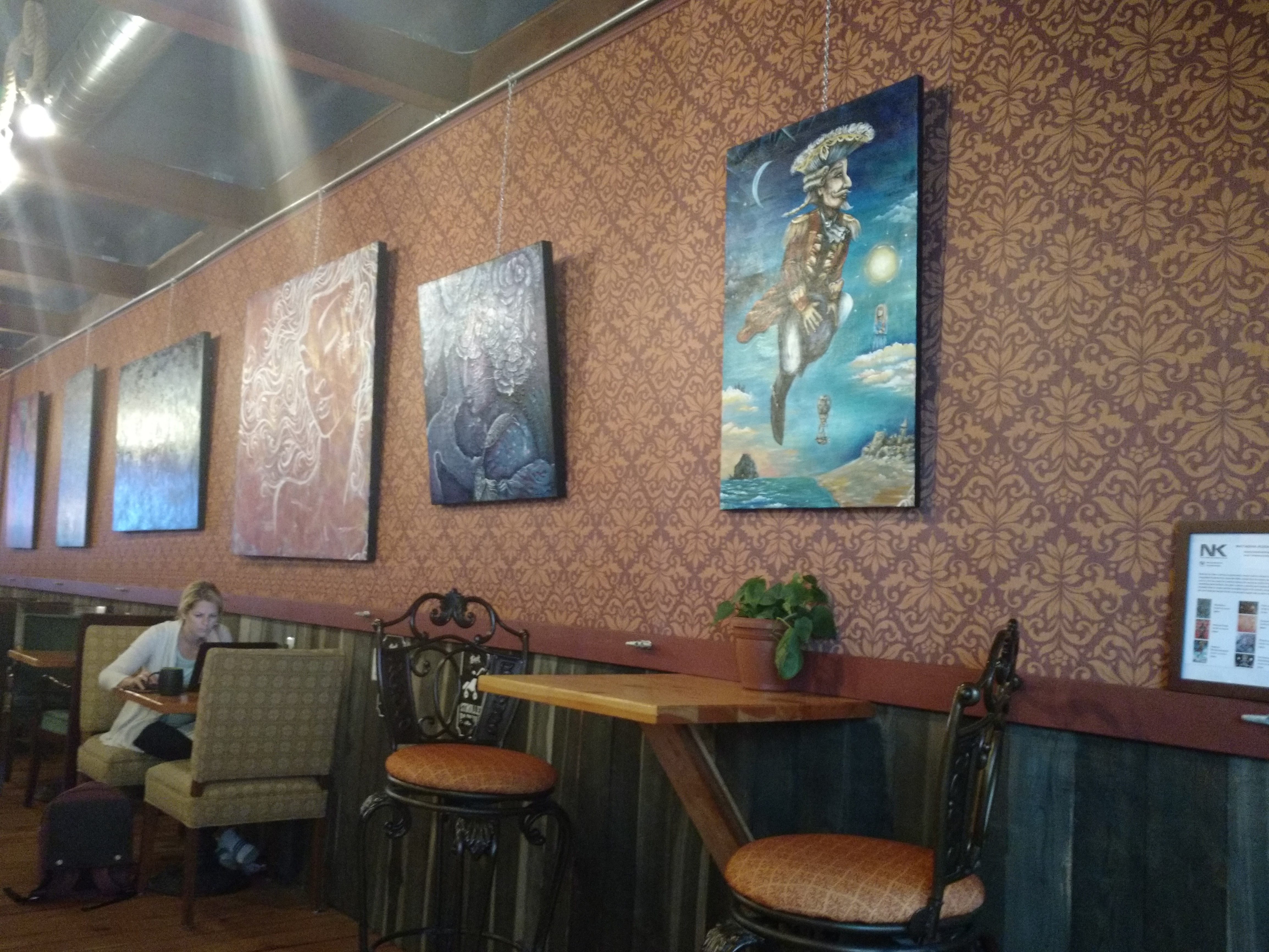 Nice, so what is your favourite drink at the Dock?
Well because it's summertime we have our specialty, the Coconut Dream. It's a coconut flavoured ice latte. It's really popular. But we make all the drinks the traditional way. Our cappuccinos, our lattes are made in the proper way of making coffee. We take a lot of pride in our coffee.
And why open a cafe in Leslieville?
I used to live in Leslieville. And trying to perform in Toronto is a struggle. There's a lot of places in the west-end for singer-songwriters to play but in the east-end, there's nowhere to play. It all came together perfectly when we found this place. It was the perfect fit for coffee and music.
And do you hope the Dock will add colour to the neighbourhood's persona?
Well, I think it's going to enhance and give the community a different place to express itself. We want to encourage the arts and music, and I think that there is a need for that in Leslieville. To give people a voice.
Besides the Draft, do you hope to host more literary events?
We thought of doing a monthly poetry night, for different avenues. If anyone else comes to us we can be reached at our site or our Facebook page, We're very flexible and open to different performances or gatherings or events. We're going to be doing some fundraisers in here for an Indian dance crew, and different CD releases. I hope to do some art gallery nights. We are open to anything.
What is the future for you and the Dock?
For my music, I'm touring India in February, and going to Mexico in January. For the Dock, we're here for the long-haul, and expand music more than the days we already have music, Thursday, Friday, and Saturday. We hope to get busier, host different events, and build from where we are. We've only been here for two months so we have a lot of room to grow and establish ourselves in this neighbourhood. We want to make a name for ourselves and have the community come in here and take part in it.
Awesome, thank you so much, Mimi
My pleasure 😉