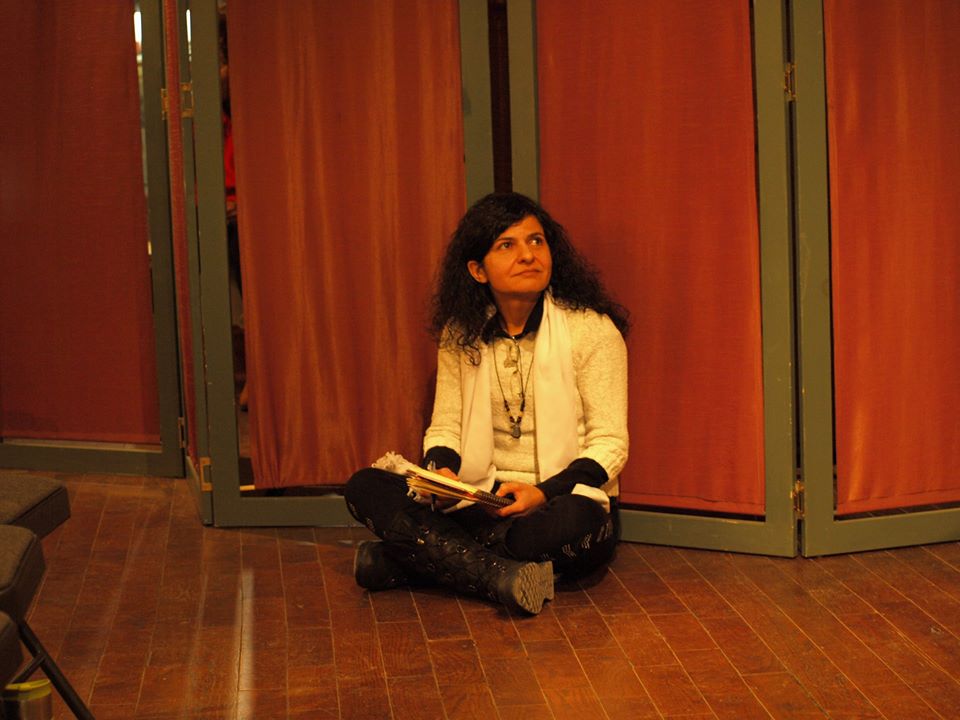 Bänoo Zan is the founder, artistic director, and host of Shab-e She'r, which has been described as "the most diverse poetry series and open–stage in Toronto." The series, which has been running for four and a half years since November 2012, currently holds events on the last Tuesday of every month in the Church of St. Stephen-in-the-Fields near College and Spadina. Zan graciously agreed to an interview with Draft Reading Series collective member Jade Wallace to talk about Shab-e She'r, the politics of poetry, the differences in the cultural presence of poetry in Iran and Canada, and the importance of choosing a name for a reading series. Below is part one of a three-part interview.
JW: You have said previously that poetry itself is political insofar as it is aware of power struggles. But in what sense are poetry readings political? If so, are there particular political aims you work toward when organizing your reading series, apart from your clear commitment to diversity?
BZ: Poetry events are highly political in their line-ups! We reward certain types of writing, poetic personae and demographics by featuring some poets and not others. It is always a subjective decision, even if we act based on criteria we have developed. We spend countless hours, not in the hopes of financial compensation, but in the hopes of leaving our mark on the poetry movements. We have a role in what publishers publish, what editors feature in their journals, and what juries reward in the form of grants, awards and prizes. Yes, and they have an impact on what we do as well. It is a conversation about the significance of poetry we invite ourselves to. We cannot be ignored in this partisan debate about what kind of poetry matters. A lot of this politics might be transitory and may not guarantee eternal fame to poets, but it cannot be categorically ignored.
On a personal level, as someone from the Middle East, my biggest political agenda is peace. I started Shab-e She'r after witnessing the level of discrimination and marginalization experienced by poets of colour, indigenous poets, black poets, poets with different sexual orientations and genders, or those from religious ethnic minorities as well as immigrant poets. I wanted us collectively to forge stronger alliances among ourselves across dividing lines. I found out that the best way is to feature marginalized poets side by side with the mainstream ones to bring them to the attention of publishers, event organizers, editors, etc. I feel that peace cannot be sustained in a society with this level of frustration and inequality.
There is too much division among us: at moments of crisis, we need to stand together. And to do that, we need to have met one another, shared spaces, exchanged ideas, and formed friendships.
I am shocked to see that despite Toronto being one of the most diverse cities in the world, still most people's closest friends are from the same ethnic background. No wonder many newcomers and immigrants don't consider this land their home. We still feel lonely after so many years living in this city and having contributed so much to it. So, my other political agenda for Shab-e She'r is to fight xenophobia!
JW: One of the articles I read about you describes Iran as a place where it is difficult to find someone who has not written at least one poem. That strikes me as very different from the way poetry is treated in Canada. Are there other differences or similarities between the ways poetry is integrated in daily life in Iran as opposed to in Canada? How does the way poetry is read and shared publicly compare in the two countries?
BZ: In Iran, poetry is the main literary genre. If there are two books in a household, the first one is the Koran and the second one is a book of poetry by Hafiz, Sa'adi, Ferdowsi or Rumi. We Iranians conduct divinations with books of poetry at certain times during the year, such as Nowruz or the Persian New Year, and Yalda, the Winter Solstice celebration. We also open books of poetry any time we are seeking guidance, such as when we fall in love, etc. We form a question in our mind, and sometimes we recite a few verses from the Koran, open the Divan of Hafiz, and interpret the poems metaphorically according to the circumstance. In fact, the Divan of Hafiz is called the non-Arab Koran. And Hafiz is nicknamed "the Mouthpiece of the Divine." People pledge to go on pilgrimage to his tomb more often than they visit a religious shrine in the same city, Shiraz.
Zinat ol-Molk Wax Museum in Shiraz is a collection of important historical figures of Fars province. The collection spans thousands of years, starting from wax statues of Sassanid kings and up to contemporary figures such as martyred pilots in the Iran-Iraq war (1980-88). When I visited it, the only missing statue was that of Hafiz. I asked a custodian about this. The answer was that the museum management feared that inevitably one group or other would protest if the representation did not match their ideal of Hafiz. To escape the backlash, they had left the booth empty. So, yes, we treat our Hafiz like a god! On the grim side, however, in contemporary Iran, poets can go to jail or be killed for poetry. Ahmad Shamlou, the poet of freedom, was jailed before and after the Islamic revolution. Books of poetry are more heavily censored than translations from other languages. At some point the verse romances of Nizami Ganjavi (from the twelfth century) were censored!
All this is a testimony to the power and the timeless influence of poetry, and the fear that dictators have of it.
If you want to escape from poetry, you'd better leave Iran! But then, you are going to miss it so much that you would probably end up reading it more than you would have if you had chosen to stay!
In Toronto, I was impressed by the discovery of its thriving poetry scene, with several readings every week open to the public. This is something I cannot imagine happening in Iran any time soon. Poetry is a subversive clandestine activity. There have been crackdowns on writers' unions, organizations and events. One of the other features I cannot imagine would be incorporated into an Iranian poetry event any time soon is the open mic. Even events held here in Toronto by Iranians or other people from the Middle East require that you submit your work before reading it on the open mic, or announce certain subjects off-limits, such as politics and religion.
JW: I learned in one of your interviews that Shab-e She'r is a Persian name that approximately translates to "poetry night" and that it is a significant choice because it is the only event you know of called Shab-e She'r that is not primarily in Persian. How much of an impact do you think the name of a reading series has on the character of a reading series and on what kind of readers and attendees it attracts?
BZ: I am not sure about the extent of the name's impact. But I hope it keeps xenophobes away! Names evoke value systems. So, if some people think the best poetry in English can only be produced by native speakers of the language, they probably would not attend our event. The history of colonization has made English the international language and now you have people like me who have studied and taught it all their lives and have published more in it than many native speaker poets. They even run poetry events in English. And I can't tell you what else is on their agenda.
But on a serious note, I think we need to stop apologizing and start strategizing to support one another right here right now. We need to think how we can create a strong poetry movement that inspires us all and keeps us alive.
But the name "Shab-e She'r" also invites Iranians and other immigrants and minorities to get involved in mainstream art and culture. We will not have a voice if we remain disengaged from the cultural scene. Cultures thrive in encounters with other cultures. Sometimes it seems to me that minority artists crave all the recognition, but do not show any interest in what others have to offer. Cultural exchange is exactly that: if you don't care about others, why do you expect them to care about you?
You can find Bänoo Zan at the next Shab-e She'r reading, which will be held on Tuesday, May 30, 2017, in the Church of St. Stephen-in-the-Fields at 365 College Street, Toronto. Doors open at 6:15 p.m., open mic sign-up starts at 6:30 p.m., and readings begin at 7 p.m.: https://www.facebook.com/events/1406575296047845/ To get updates about future events, join Shab-e She'r (Poetry Night) Facebook group, like Shab-e She'r –Poetry Night page on Facebook, follow Zan and/or the group on Twitter: @BanooZan & @ShabeSherTO, or join Zan's email list rghrhino@gmail.com.