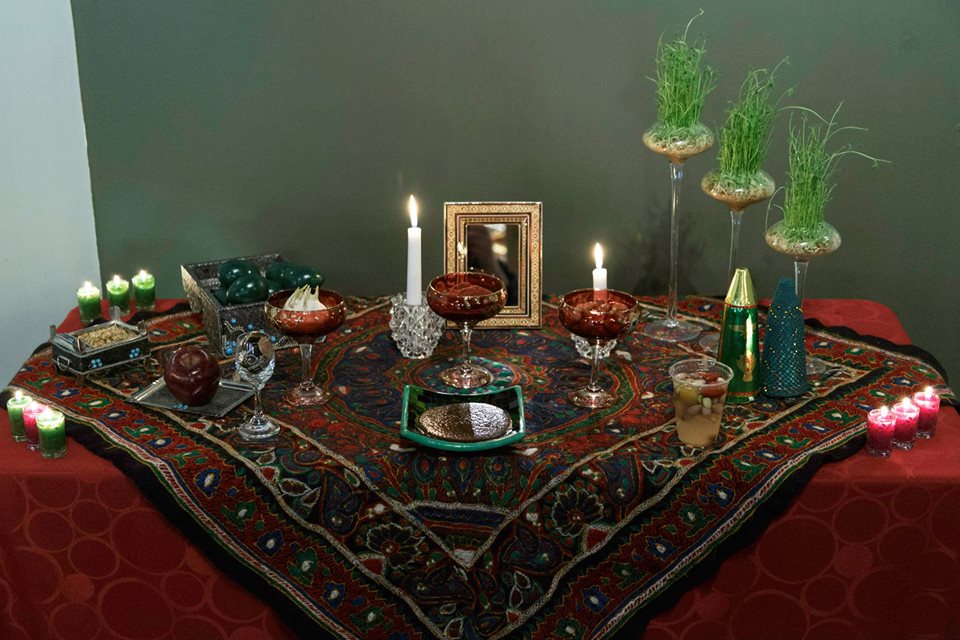 In part one of Draft's interview with Bänoo Zan, the founder, artistic director, and host of Shab-e She'r, "the most diverse poetry series and open-stage in Toronto," we discussed the politics of poetry, the differences in the cultural presence of poetry in Iran and Canada, and the importance of choosing a name for a reading series. In part two, Zan talks creating brave spaces rather than safe spaces, what she looks for when selecting readers for the series, and how to make sure that the audience that gets to enjoy the series is as diverse as the writing featured.
***
You have said before that you want your readings to be a "brave space," which is not the same as a "safe space." What does "brave space" mean and how do you create it?
Some series call themselves a "safe" space, or are struggling to create such spaces. Due to the nature of some events, the organizers have had to grapple with harassment and other aggressive predatory behaviour.
But Shab-e She'r does not have that issue, thanks to the inclusivity and diversity of our audience. We have people of all ages, ethnicities, religions, sexual orientations, and lifestyles. And though we are well known across diverse poetry groups, predators who have made other events unsafe have never set foot in our space.
Because Shab-e She'r has an international feel to it and is a space where people come to be exposed to diversity through poetry, sometimes even experienced poets may feel uncomfortable on our stage, if they are not used to reading for people outside their immediate communities or circles. Shab-e She'r bridges the gap between diverse communities. We feel all poetry communities and groups, including the mainstream, need to go out of their comfort zone, if peace, reconciliation and dialogue are to happen.
There is an artistic reason behind the term "brave space." Many artists who have made their mark on history were those who were brave enough to let their curiosity take them to encounters, styles, subject matters, and experiences their counterparts shunned. At Shab-e She'r we want to hear all sides of the story. We have had nights when Zionists and supporters of Palestine shared the stage. We had nights when people spoke for and against Fidel Castro, and on and on. And no fight or ugly scene broke out.
Courage is the virtue we need to practice, if we want to create meaningful art. If you expect validation for every word you say, you are not an artist – you are a narcissist.
If you only perform in spaces where everyone already agrees with you, you are using your art as a membership card to an exclusivist club. You are not making any change.
At Shab-e She'r we want to initiate meaningful change in society outside our limited circle. As a member of a visible minority, I believe we are strong enough. I come from a culture and a religious tradition thousands of years old. No amount of critique or opposition can make them go away. As an artist, however, my role is not limited to affirming my identity. I have the right and responsibility to critique it and I don't feel offended if anyone else critiques it, either. As an artist, my first priority is the truth, not any group loyalty. I want to be heard by people who do not agree with me. I also want to listen to those different from me. Bravery requires taking risks. If you are not taking risks, you are not brave.
What qualities do you look for when selecting featured readers for your series?
Active professional social media presence; excellence of poetry and performance; genuine support of diversity and poetry community; ability and willingness to act as public figures; social skills and the ability to treat audiences and fellow-poets with respect and kindness; willingness to expand their network. I almost never feature people I haven't personally met and am not connected with on social media! I want to make sure I do not feature those who may abuse the spotlight they get. And because of the way I run the show, pairing poets with those outside their circles, I need to have heard them frequently enough to be able to create a show that offers a variety of styles and approaches, and brings people together who are open to new connections. This would not be possible if I have not met the poets before and have not seen them perform.
I also believe that poets are responsible for creating and maintaining the community. We want poets to bring people together and act as a force for peace and reconciliation among communities. We believe in the artists' social-political role. We believe in the openness of artists to other styles and communities.
And a poet's long-term support of Shab-e She'r and their appearing on our open mic is the best evidence of their commitment. I have also found out that poets who have not attended the event before sometimes fail to engage our audience or prepare a feature set that would speak to our concerns.
At Shab-e She'r we celebrate poets who believe in equality among poets and listen with humility to emerging as well as established voices. One of our requirements is that featured poets attend the whole event, including our long open mic section. Publications or accolades do not win poets a feature spot at Shab-e She'r: their engagement with diversity and community does.
Oftentimes a poet can remain indefinitely on my list and not be featured, simply because I am waiting for them to show up at our events and join the open mic. We love poets who show up to support communities different from theirs, are open to diversity, and want to learn about other poets and support them through attending our events.
Your reading series is openly committed to diversity in literature. Of course a lot of this involves making sure that diverse writers are featured. But what about the audience? Is the audience necessarily diverse if the writers are, or do you take additional measures to try to attract a diverse audience?
Shab-e She'r is far more diverse in its audience than many other poetry series. To send the message that the space is truly inclusive, we do need to feature diverse artists. But that wouldn't be enough to bring out the audiences we want, and we want all communities. At Shab-e She'r we ask our featured artists to reach out to their network and invite as many people as they can. We tell them that their payment depends on the turn-out. We also tell them that we are trying to facilitate a cross-cultural conversation and we ask them to reach out to their fans to make this dialogue happen. We also tell our artists that the selection of future features from their communities will depend on the turn-out of their community for support.
I also send the event invite to many diverse listings. I post on diverse Facebook pages, use Twitter and even LinkedIn to reach out to as many different groups and people as possible. Whenever I attend an event, I talk about Shab-e She'r, and ask people to spread the word to their communities. I am an immigrant who has been in Toronto since 2010, but I ask the supporters of diversity, peace, and poetry to spread the word. I really appreciate the help of those who share the event on social media and bring friends and all interviewers and writers who have provided a platform to talk about Shab-e She'r. If it was a personal project, I would never ask for help. But I believe it is a peace project that will shape the future of our city, and by extension, Canada.
There is also another factor to consider: that whoever shows up is our ally and supporter. At Shab-e She'r we support poets who support other poets, feel the need to network with others, and add their voice and presence to the conversation.
We also cherish the support of non-poets who attend our events to lend their support to the cultural exchange we are trying to facilitate. We need supporters of diversity as much as we need diverse poets and audiences.
***
For more information about the Shab-e She'r reading series, and to get updates about future events, join Shab-e She'r (Poetry Night) Facebook group, like the Shab-e She'r –Poetry Night page on Facebook, follow Zan and/or the group on Twitter: @BanooZan & @ShabeSherTO, or join Zan's email list rghrhino@gmail.com.